Frequently Asked Questions
Why do I need a website?
---
Businesses can't afford not to have a website. How will people find you? It's an easy way to gain credibility and show off your work, products and services.
---
Are there any upfront costs?
---
The majority of our website packages have no upfront costs. If you supply the content then no money is due until you are completely happy with the design. Payment is only due before the site is transferred to you. If you would like us to fully research and provide original content then 50% of the fee is due upfront with the remainder paid before the site is transferred.
---
How much is the monthly cost?
---
Our one-off fee does not include your website's Premium Plan hosting cost. This monthly fee is paid by you directly to Wix. The cost depends on the plan you select (prices range from £3 to £22 per month).
​
Other features that Wix offer (e.g. paid apps, SEO expert, domain connection/transfer fee, G-Suite etc.) are paid by you directly to Wix.
---
Can I keep my domain name?
---
Most domain names can be connected or transferred to Wix once you've chosen your Premium Plan. When we transfer the new website to you, the process of transferring the domain name is done by you through your Wix site, following step by step instructions. You can find out who hosts your domain name here: https://www1.mydomain.com/whois/whois.bml. A tutorial giving a step by step guide on how to transfer your domain is available here: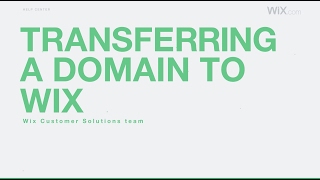 If you have a .co.uk site, information on how to connect your domain is available here https://support.wix.com/en/article/connecting-a-domain-purchased-elsewhere. We are happy to transfer or connect the domain name for you but we charge extra for this service.
---
How long does it take to create a website?
---
It depends on your requirements. A 4 page site, with all the information provided by you, could be completed and transferred in a week. An e-commerce website will take a little longer depending on the number of products to be added. Timing depends on how quickly you can provide the content.
A bespoke website design, with no content given, will be fully researched and written from scratch with original content, and this site will take longer to build. Contact us to find out more - https://www.butterflywebsitedesign.co.uk/contact-us.
---
Will my website be mobile friendly?
---
Absolutely, your website will automatically be mobile optimised and will look stunning on both desktop and mobile versions.
​
---
Does my website need to be mobile friendly? ​
---
For your business to be a success, it is vital that you have a responsive website (a website that adapts to the size of the screen). Not only will it look better but will also increase the time customers stay on your site. Over 50% of web traffic is viewed through smartphones, and mobile optimised websites rank better on Google.
​
---
Why is a website needed?
---
Technology is moving at a lightening pace and people no longer look to directories for companies, they use search engines on mobile, desktop and tablet devices to find information faster. Having a responsive website allows you to promote products or services along with opening hours, locations, pricing and special offers. The best website design is one that engages your existing customers and enables you to attract new ones.
​
---
Will you add a cookie banner to my site?
---
Yes.
---
Do you write a Privacy Policy?
---
No. Guidance can be offered but are only general explanations, information and samples. You should not rely on the information given as legal advice or as recommendations regarding what you should actually do. We recommend that you seek legal advice to help you understand and to assist you in the creation of your privacy policy. ​
---
Why do small businesses need a website?
---
You may be a 24 hour emergency plumber, a potential customer comes home from holiday to find a leak, they type 'emergency plumber' in their search engine and five minutes later your competition is on their way. A small business website could help you attract new customers 24 hours a day and inform people in your local area or across the world, (depending on your business) that you offer a cost-effective, premium service that's better than your competition.
---
How can I make a website interesting?
---
When Butterfly Website Design create a website we aim to make them as interesting as possible so that customers stay on your site longer. We can make them engaging with slideshows, interactive features, live chat, blogs, galleries, videos, forms, social streams and much more...
---
Can I keep my existing e-mail address?
---
Form subscriptions can be forwarded to an e-mail address of your choice. Alternatively, you can connect a mailbox hosted elsewhere or add a G Suite Account. This is not included in your design fee but Wix offer support via their help centre.
---
---